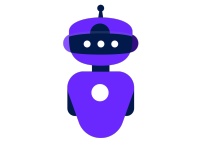 A feedback email is an email that is sent in response to feedback that has been received. The email may be sent to the person who provided the feedback, or it may be sent to a wider audience. The email may thank the person for their feedback, or it may provide information about how the feedback will be used.
The feedback email template AI generator is a tool that can help you create automated feedback emails. This can be useful if you want to save time on emailing customers or if you want to make sure that your feedback emails are consistent.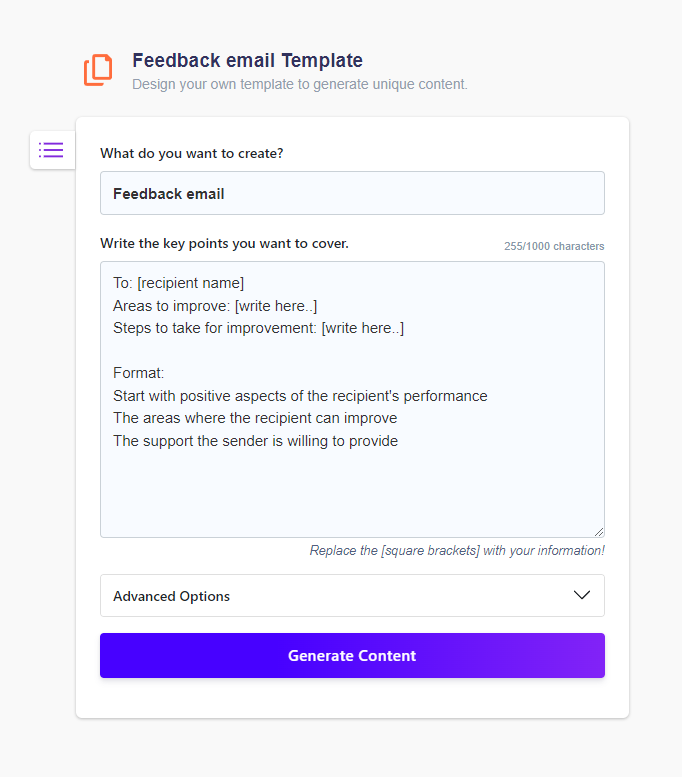 What is Feedback email Template:
A feedback email template is a pre-written email message that can be used to solicit feedback from customers or clients. The template can be customized to include specific details about what feedback is being requested, and can also be used to provide instructions on how to provide feedback.
Feedback email templates can be found online or created using email marketing software.
Example:
Subject: We Want to Hear from You!

Hello [name],

We hope you're enjoying your experience with our [product or service]. We're always looking for ways to improve, and your feedback is essential to helping us provide the best possible experience for our customers.

If you have a moment, we would greatly appreciate any feedback you might have about your recent experience. Please feel free to contact us at [email address] or fill out our feedback form at [URL].

Thank you for your time and feedback.

Sincerely,

[Your name]
Hi [name],

Thank you for your feedback! We're always working to improve our products and services, and feedback from our customers is a critical part of that process.

We really appreciate the time you took to provide your feedback, and we'll do our best to use it to make our products and services even better.

Thanks again,

[Your name]
Benefits of using Feedback email AI Generator:
Helps you save time by automatically creating feedback emails
Helps you improve customer satisfaction by quickly responding to feedback
Helps you increase sales by following up with customers who provide feedback
Helps you improve product quality by quickly identifying and addressing issues
Helps you build trust and credibility with customers by promptly responding to feedback
Frequently Asked Questions:
What is a feedback email?
A feedback email is a type of email that is sent to a recipient in order to elicit feedback. The feedback email may be sent in response to a specific action or event, or it may be sent on a regular basis in order to gather general feedback. Feedback emails can be sent to individuals or groups, and they can be sent using a variety of methods, including email, surveys, and online forms.
How do I create a feedback email template?
To create a feedback email template, you will need to choose a method for gathering feedback, such as surveys or online forms. Once you have chosen a method, you will need to create a template that includes questions or prompts that will help you gather the desired feedback. You may also want to include instructions on how to provide feedback, as well as how to submit the feedback.
What is the purpose of this template?
The Feedback Email Template is designed to help you collect feedback from your customers or clients. It can be used to gather feedback about your products or services, or to get feedback about your business in general.
What information should I include in the feedback email?
When sending a feedback email, you should include your name, company name, contact information, and a brief message. You should also include a link to your survey or feedback form.