The YouTube Video Script Generator is a tool that helps you create video scripts for your YouTube videos. It provides a step-by-step guide that walks you through the process of creating a script, including tips on what to include and how to structure it. The generator also includes a library of example scripts to help you get started.
The Wordkraft AI YouTube Video Script Generator is a tool that can help you respond to comments on your YouTube videos automatically. It uses artificial intelligence to generate responses based on the content of the comments, so you can focus on other tasks while it takes care of responding to your viewers.
Steps to Generate YouTube Video Script
Please follow this steps to create an impressive YouTube video script to grab the attentions of users
Step 1
Log-In to Wordkraft.AI app and select the call to action tool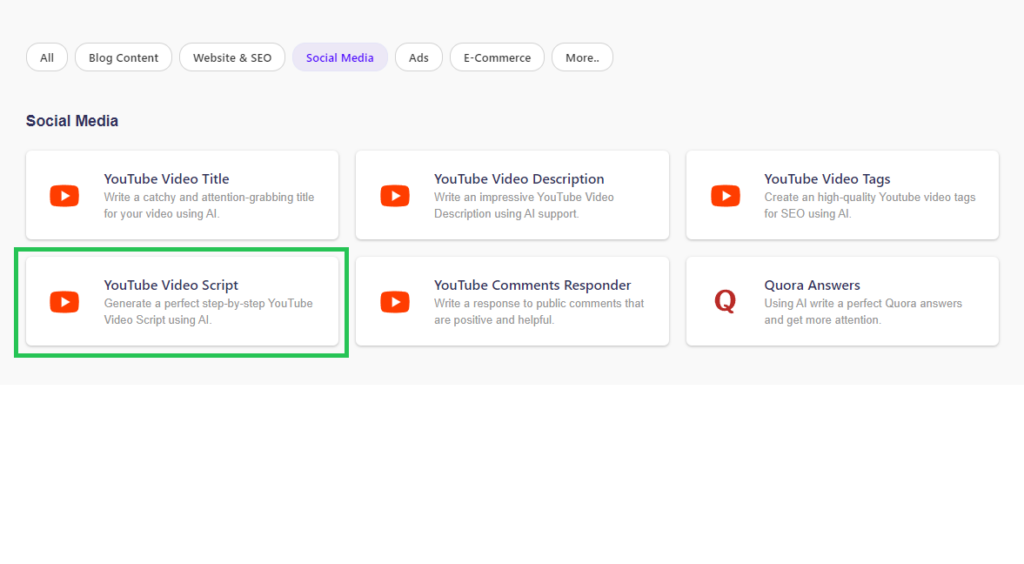 Step 2
Write about your video context and select the right properties.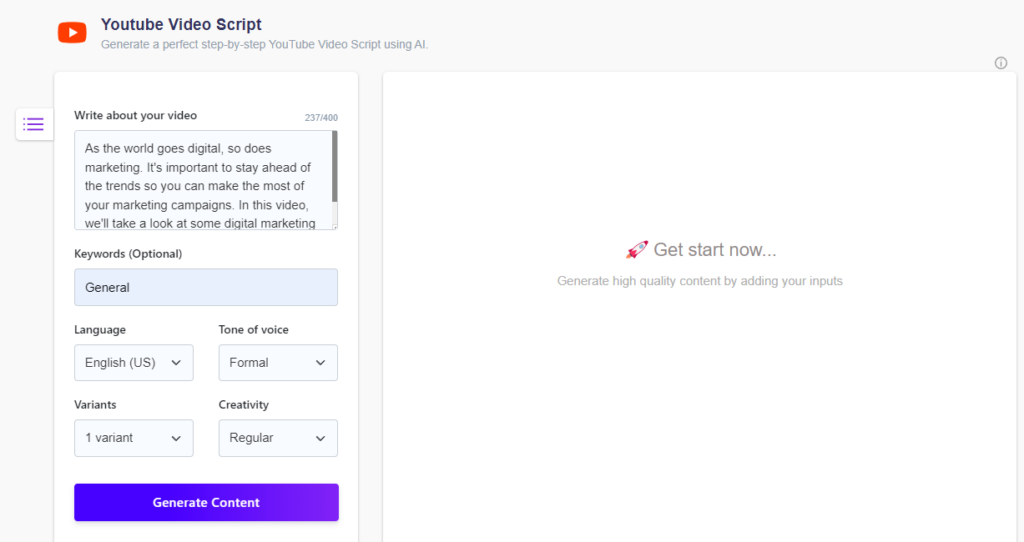 Step 3
Now Click "Generate Content" and wait for the AI to do the rest..
You will see an outstanding content generated by Wordkraft AI.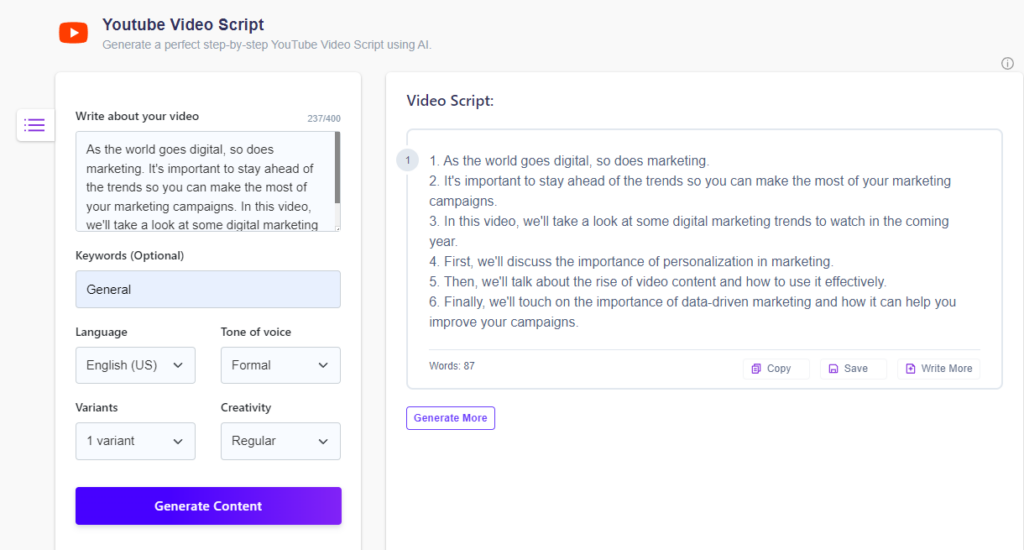 There are a number of different types of headlines that you can try out, and WordKraft AI can help you to determine which ones would be most effective for your blog post.
Benefits of using Wordkraft AI YouTube Video Script Tool
Save time and money on content creation: If you are a YouTuber, you know how time-consuming it is to come up with new video ideas, write a script, and then shoot and edit the video. With Wordkraft AI, you can quickly generate a script for your next video in minutes, which will save you hours of time.
Create better videos: Since the Wordkraft AI YouTube Video Script Tool uses artificial intelligence to understand your target audience and generate a script accordingly, you can be sure that your video will be highly relevant and engaging for your viewers.
Get more YouTube views and subscribers: If your videos are relevant and engaging, you will naturally get more views and subscribers on YouTube.
Make money on YouTube: As you get more views and subscribers, you will also be able to make more money on YouTube through advertising revenue.
Boost your brand: If you are using YouTube for business purposes, then using Wordkraft AI can help you boost your brand visibility and reach.
Increase website traffic: If you include a link to your website in your video description, you can also use your videos to drive traffic to your website.
Get more leads and sales: If you are using YouTube for marketing purposes, then the increased traffic and brand visibility can lead to more leads and sales for your business.
It's free to use: The best part about Wordkraft AI is that it has a free credits to use. You can generate as many scripts as you want without having to pay anything.
It's easy to use: The Wordkraft AI YouTube Video Script Tool is very easy to use. You just need to enter a few details about your video and the AI engine will do the rest.
No video experience required: You don't need any prior video experience to use Wordkraft AI. The tool will generate a script for you, which you can then use to shoot and edit your video.
Frequently Asked Questions
How does this YouTube video script generator work?
This generator works by taking in a user's inputted text and then using that information to generate a video script. The generator then uses artificial intelligence to create a video based on the script.
How accurate is the video that is generated?
The video that is generated is usually quite accurate. However, there may be some slight errors in the video due to the fact that it is created by artificial intelligence.
What Are The Benefits of Using Wordkraft AI YouTube video script generator?
Wordkraft AI can help you save time and money by generating high-quality video scripts for your YouTube videos. It can also help you optimize your videos for YouTube's algorithm, which can lead to more views, subscribers, and revenue.
Level up now!
No credit card required – 2000 words free per month – 146+ content types to explore
Related use cases